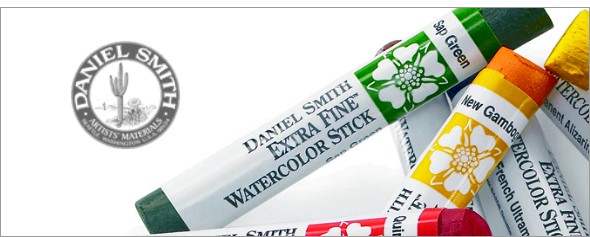 There is a wealth of digital media available to help you and your customers learn more about the Daniel Smith range of products
Below we have a selection which includes topics like: How Daniel Smith Colour is made, a series of several short programs that build upon one another, about how to draw and paint with Daniel Smith Watercolour Sticks, an introduction to Daniel Smith Project books and finally a short piece to introduce Daniel Smith Watercolour dot charts.
To learn more about the Daniel Smith product range simply click on the links below:
Making Daniel Smith Extra Fine Colours.
Introducing Colour dot charts from Daniel Smith
Daniel Smith Watercolour Project Book
WATERCOLOUR STICKS SERIES.
This is a series of short videos that takes you through the basics of how to use Daniel Smith Extra Fine Watercolour Sticks, right through to a finished watercolour painting.
Daniel Smith Watercolour Sticks Demonstration Program 1
Daniel Smith Watercolour Sticks Demonstration Program 2
Daniel Smith Watercolour Sticks Demonstration Program 3
Daniel Smith Watercolour Sticks Demonstration Program 4
Daniel Smith Watercolour Sticks Demonstration Program 5
Daniel Smith Watercolour Sticks Demonstration Program 6a
Daniel Smith Watercolour Sticks Demonstration Program 6b
Daniel Smith Watercolour Sticks Demonstration Program 7a