Pearlescent PanPastels & Mediums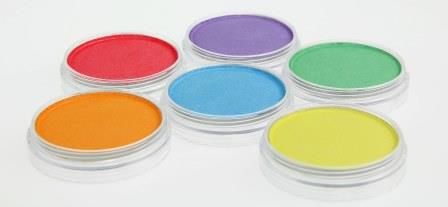 Introducing new PanPastel Pearlescent Colours & Mediums.
These new colours & mediums have all the properties of the original 80 colours, which means they are:
Super-blendable - mix like paint with original PanPastel colours for an infinite palette of pearlescent effects.
Highly Pigmented - for rich pure coloursl
Versatile - use on almost any surface, great for mixed media.
Instant - no preparation or drying time required - no solvents or water needed.
Erasable - very forgiving - correct / remove with any eraser.
Low Dust - "no mess" alternative to pastel sticks & powders. Cleaner, less waste.




PanPastel Pearlescent Colours are rich lustrous colours which can be mixed with each other and also with the original PanPastel Colours. They create beautiful shimmer without appearing glittery.
PanPastel Pearl Mediums are the world's first true pastel (dry colour) mediums. You can create a variety of effects from a soft pearl sheen (fine) to a shimmering sparkle (coarse).
Use the white mediums to tint colours and the black mediums, to create darks and shades for rich, jewel-like effects.