Posted on 14th Feb 2013 @ 8:53 PM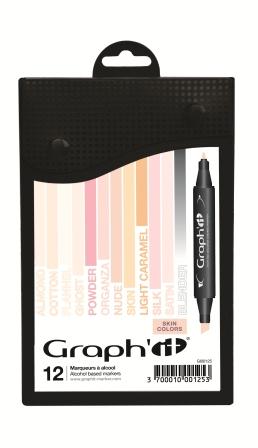 Premium Art Brands are the exclusive distributor of the Graph'It Marker for UK and Eire.
The Graph'It Marker Range is the latest Innovation in Alcohol Markers with:
• 158 colours chosen by the top Fashion & Design schools
• Cutting edge ergonomic design for maximum comfort in use
• First ever Blending Palette to create your own unique colours
• One great price
The Graph'It range has taken 2 years to research and design and appeals to Crafters Art & Design students and Manga Artists.
The Graph'It Marker has 2 high quality, Japanese made polyester nibs - the first is a chisel nib and second is fine bullet nib, making them ideal for covering both large areas and finer detail work.
Each marker holds 4 grams of ink which is approx 20% more than many other leading brands.
The design of the Graph'It Marker is unique to this brand and is triangular in shape. Ergonomic studies show that a triangular shaped body is more comfortable in use, reducing tiredness and fatigue. It also means it will not roll off your table.
Coloured end caps with large bold colour codes makes indentifcation of each marker easier in store and when in use.
Graph'It Markers has a colour coding system as follow:
The last 2 numbers identify the colour saturation and lightness. Digits 3 & 4 identifies the colour family. For example
1110 is the code for Citrine which is a light yellow. So Yellow is the colour family identified by 11as the first 2 digits. The last 2 digits 10 show it is lighter. This can be compared with 1180 the code for Mimosa which is a much darker and saturated Yellow colour.
The range consists of 158 carefully selected colours with 11 different skin tones and a new range of greys not found in any other range - Pink Greys and Green Greys.
If you are interested in stocking this range please contact us to learn more about the deals we have a available. either call 01926 492213 or email [email protected]