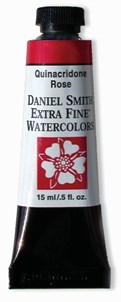 DANIEL SMITH currently offers 245 different watercolours, with more in the works every year. The sheer range of possibility they offer is endless and unparalleled in the industry. Their amazing selection spans the spectrum from the historical, to natural earth and PrimaTek colours, to Quinacridones, the brightest and boldest colours modern technology has to offer.
DANIEL SMITH Quinacridones
Quinacridones combine the power of the staining pigments with the luminosity of the transparents. They flow beautifully for extremely smooth washes, have incredible depth of colour and can be lifted easily while still wet.
Understandably, they've been very popular colours since their introduction. People just love them. No other colours have both the intensity and transparency of the quinacridone family. They are synthetic organic pigments, created in the world's most advanced colour laboratories. Miniscule pigment particles are exceptionally uniform in size and shape, which translates to unfailing behavior in the paint.
The quinacridone colour range - rich golds, oranges, pinks, reds and violets - covers a wide swath of the spectrum. Many artists have substituted the fantastic earthy golds and oranges for traditional ochres and siennas, instantly super-charging their palettes with these intense and extremely lightfast colours.
DANIEL SMITH Primatek Watercolours
Daniel Smith PrimaTek colours are unique paints made with pure, authentic mineral pigments that are mined directly from the earth and each one has a story. These colours have captured the imagination of artists for hundreds or even thousands of years. Their diversity is amazing.
DANIEL SMITH Luminescent Watercolours
Use alone or mix into standard colours for striking effects of light and colour. Miniscule particles of titanium-coated mica are the secret. Different sized particles and thicknesses of coating provide the dazzling array of choices.
Interference and Pearlescent colours appear almost colourless but when applied over a dark colour they bounce back gleaming colour. The interference colours take on different hues depending on the point of view and how the light is striking them. Viewed from one angle, Interference Green is a shimmering, pearly green. Viewed from another angle, it refracts a reddish hue.
The Duo chrome colours bounce between two distinct colours depending on the reflective light. Pure visual excitement! The Iridescent colours reflect light directly and provide a fascinating sense of depth, along with intense colour and sheen.
The Iridescent colours reflect light directly and provide a fascinating sense of depth, along with a distinctive sheen. The colour ranges of these colours are the most intense